Teamsters Joint Council 13 Gets Visit by Australian Labor Union Gives New Meaning to "Labor Solidarity"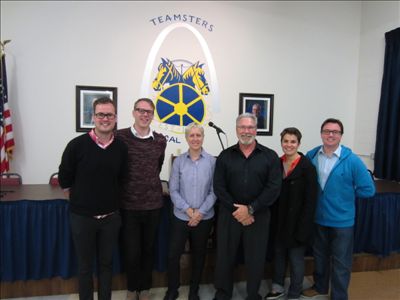 Organizers from the Australian Services Union (ASU) in Sidney spent the week of April 16th in Saint Louis Missouri helping Teamsters' organizers and community activists go door-to-door in Bridgeton to inform residents about the serious health concerns created by subsurface fire in the Republic Service nearby landfill. The West Lake landfill is also the sight of illegally dumped radioactive waste from the Manhattan Project. They were led by Sally McManus, who is the principal officer of the ASU's New South Wales (NSW) branch –headquartered in Sidney. New South Wales is the most populous state of the Australian federation. Participating in the delegation to the USA were ASU organizers Jocelyn Gammie, Christopher Friend, Tom Patton and Angus McFarland.
They had just came from Los Angeles, Ca., spent a week in St. Louis, Mo. and then continued on to Washington, DC to the IBT and from there it was on to Seattle, WA. Every other year ASU sends a delegation abroad for two-weeks to get hands on experience alongside other unions in other countries who represent workers in the same type of industries – but often under different rules and conditions. They are especially interested in learning how Teamsters, and other American unions, fight back against corporate greed, since America has one of the most deregulated, least worker friendly legal and political systems in the developed world.
Teamsters Joint Council 13 President Marvin Kropp welcomed them to St. Louis and sat down with them to discuss issues concerning the Teamsters Union here in St. Louis and gave them details on what industries the Teamsters Union represents here in our state and how our Joint Council 13 is active in the communities and with social media. It's always great to get a chance to visit with other labor unions across the globe stated President Kropp, it shows corporate pressures to privatize, downsize and reduce the rights of workers and their political power is not just an American fashion, it's ongoing in Australia as well.